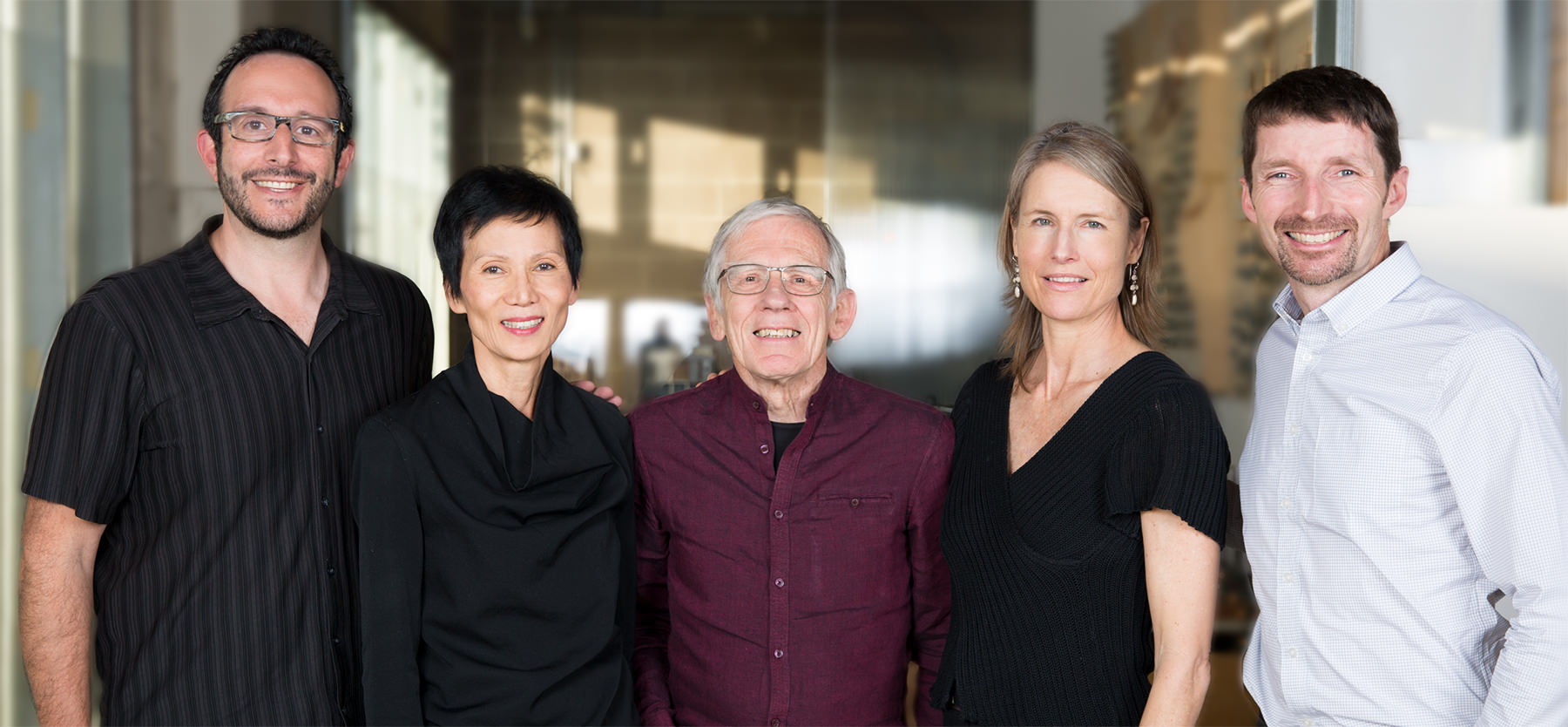 Dave Goldberg, president; Hsinming Fung and Craig Hodgetts, partners at the new Mithun | Hodgetts + Fung office; Anne Torney and Brendan Connolly, partners and board members
Mithun Merges with Hodgetts + Fung of Los Angeles
We are pleased to announce that Mithun has merged with the nationally acclaimed design firm Hodgetts + Fung, which has practiced in Los Angeles for 35 years. Together, we immediately increase our expertise and capacity for urban mixed-use, higher education, civic, cultural and corporate project commissions.
Craig Hodgetts and Hsinming Fung are now partners at Mithun, bringing their full team of architectural design staff in the merger. The existing Hodgetts + Fung office in a renovated warehouse in Culver City will be called Mithun | Hodgetts + Fung, adding a third major presence complementing Mithun's 170-member staff in Seattle and San Francisco. Joining Mithun | Hodgetts + Fung are a team of Mithun staff who have been operating in Los Angeles in support of significant Southern California projects.
"Finding such strong design talent and fit with Craig and Ming is remarkable, and we are very excited about the positive impact we will be able to make together in Southern California and beyond," said Dave Goldberg, president at Mithun. "We found shared values in delivering the highest quality design, combined with a culture of authentic collaboration and listening to our clients and our communities."
Craig added, "Both our practices take a deeper look into architecture and ask, how does this project benefit the community as a whole? Cities today are in great need of this kind of holistic thinking, and we are excited to bring this approach to groundbreaking projects with our expanded team."
One of the region's most respected design firms, Hodgetts + Fung has been published extensively, winning more than 40 design awards including the AIA California Council Firm Award in 2008. Current work includes the 260,000 square-foot Robertson Lane mixed-use development in West Hollywood, the Sunset and La Cienega retail/commercial complex, and the recent adaptive re-use of the venerated 1200-seat Robert Frost Auditorium in Culver City.
We are excited to introduce our new design partners:
Craig Hodgetts, FAIA
With a broad-ranging background in theater arts, automotive engineering and architecture, Craig brings a singular synergy to the design of challenging environments. He has created legacy projects for the California Institute of the Arts (CalArts), Art Center College and Occidental College. His extensive body of work ranges from cultural and entertainment to institutional and civic facilities, including landmarks such as the Hollywood Bowl, Egyptian Theater and the UCLA Gateway. Craig has served as a professor at the UCLA Graduate School of Architecture and Urban Planning, and previously was a Founding Dean of the School of Design at the California Institute of the Arts.
Hsinming Fung, FAIA
Ming brings direction, creativity and high standards to an architectural practice known for innovation and experimentation. Awarded a Gold Medal from AIA California Council in 2006, Ming has also served as Presidential Appointee to the National Endowment for the Arts Council. Reflecting a life-long commitment to the arts and education, her portfolio of work includes the award-winning temporary Towell Library at UCLA, the 50-acre master plan for the Los Angeles Arts Park, and the Menlo-Atherton Performing Arts Center. Among her recent efforts are a new performing arts center at CalArts and the design of the Chapel of the North American Martyrs in Sacramento.

LEARN MORE:
View the full press release
Media inquiries, contact pr@mithun.com