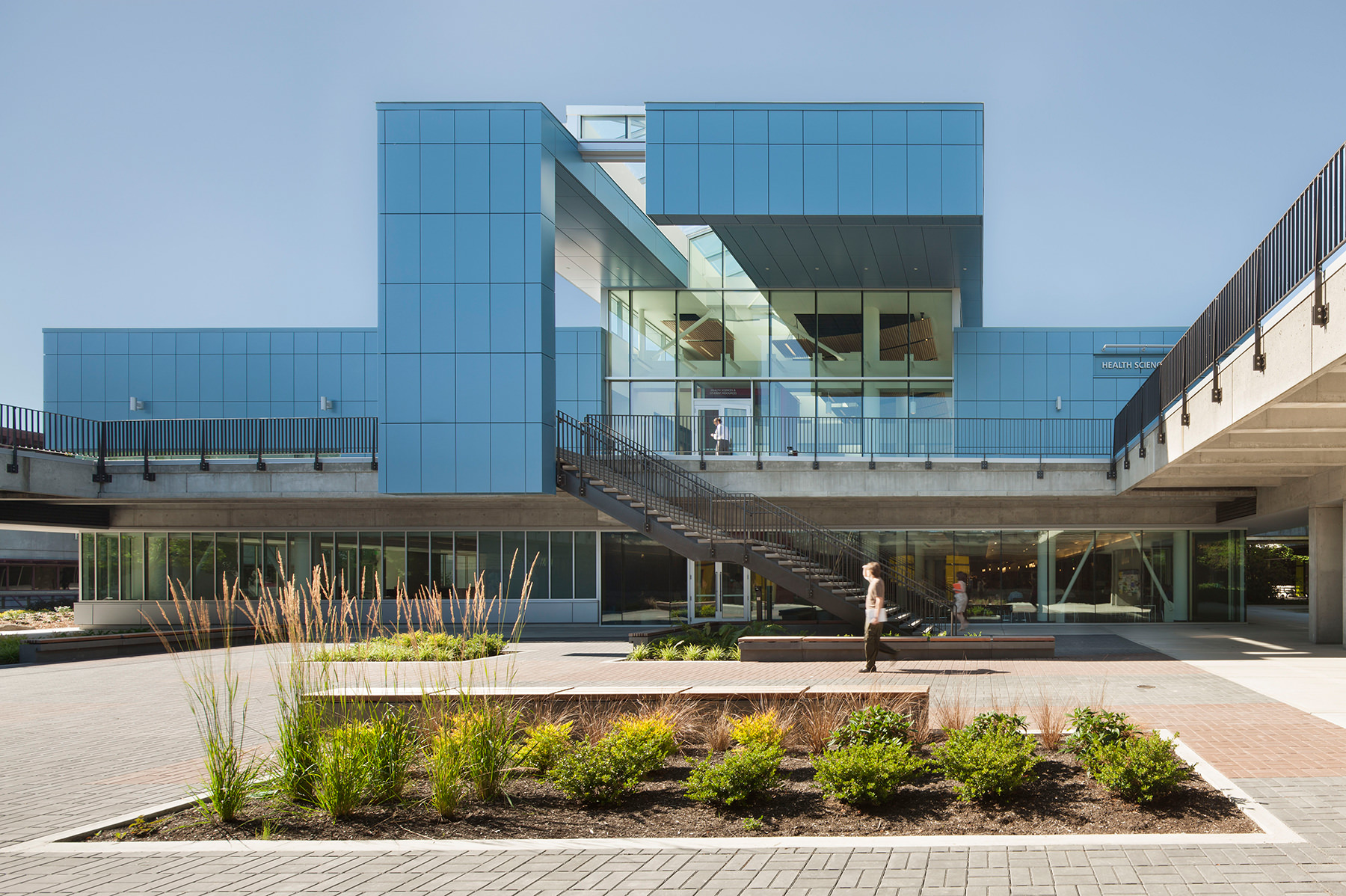 Mithun expands higher education and design-build expertise with the addition of Schacht Aslani Architects.
Schacht Aslani's 23-year practice has been focused on higher education, civic and planning projects, including a number of collaborations with Mithun. Schacht Aslani's Seattle-based team of 19 employees is joining Mithun's Pier 56 design studio, building its firmwide staff to 190 people. Principals Cima Malek-Aslani, Walter Schacht, Eric Aman and JC Letourneau are now partners at Mithun.
Mithun and Schacht Aslani have a long history of complementary expertise and professional collaboration, and this new union leverages the knowledge and client work of both firms for a wide range of projects. In particular, the merger builds upon Mithun's work on large campus projects for leading higher education institutions, from UCLA to Princeton, with Schacht Aslani Architects' expertise in interdisciplinary academic buildings, campus planning and civic projects. The expanded practice is well-positioned to deliver complex projects of scale throughout the West Coast and beyond.
"Growing the strength of our firm with such a talented team is a rare opportunity and we couldn't be more excited about the partnership," said Mithun president Dave Goldberg. "The Schacht Aslani and Mithun teams share values of modern, high-performing design, and a strong collaborative process that we believe is critical to serving clients and communities."
Winner of numerous awards and widely published for design and thought-leadership, Schacht Aslani's recent projects include the College Instruction Center at Olympic College, the Seattle Office of Arts and Culture at King Street Station and Seattle Public Utilities' net-zero-ready Cedar Falls Watershed Headquarters.
Schacht Aslani and Mithun have been working together since 2016 on a series of projects for Washington State's historic Capitol Campus and are currently planning a new Insurance Commissioner Office Building there. The firms have a number of shared clients, including the University of Washington, Seattle University, Seattle Parks and Recreation, and the State of Washington.
"We share fundamental values about community, sustainability and design with the folks at Mithun," said Walter Schacht, FAIA. "Joining their team enables us to leverage the value of our strategic approach to planning and design, increasing the opportunities to work on challenging academic, civic and cultural projects with ambitious design goals. We've been impressed by Mithun's significant design-build and P3 project commissions in the Pacific Northwest, California and nationally. We anticipate our shared platform will enable us to expand upon that foundation with additional large-scale public work." Schacht is recognized for his distinguished body of work and his advocacy for public policies that promote the community and the profession.
Combined, Mithun and Schacht Aslani have designed a dozen design-build projects over the last five years, representing more than $800 million in construction value. In addition, Schacht currently chairs the state's Capital Projects Advisory Review Board that oversees alternative project delivery in Washington.
Cima Malek-Aslani, AIA said, "Our mission aligns with Mithun's – to connect people to place and to each other for memorable experiences. Mithun's diversity of project experience complements our focused portfolio of educational, civic and cultural work. Together we will be able to achieve more than we could individually." Cima is recognized for her achievements in the design of spaces that promote collaboration in academic and workplace environments. She is focused on the adaptive reuse of existing buildings and served as a King County Landmarks Commissioner.
Learn More:
Explore significant projects by Schacht Aslani Architects.
View the full press release.
Media inquiries, contact pr@mithun.com.